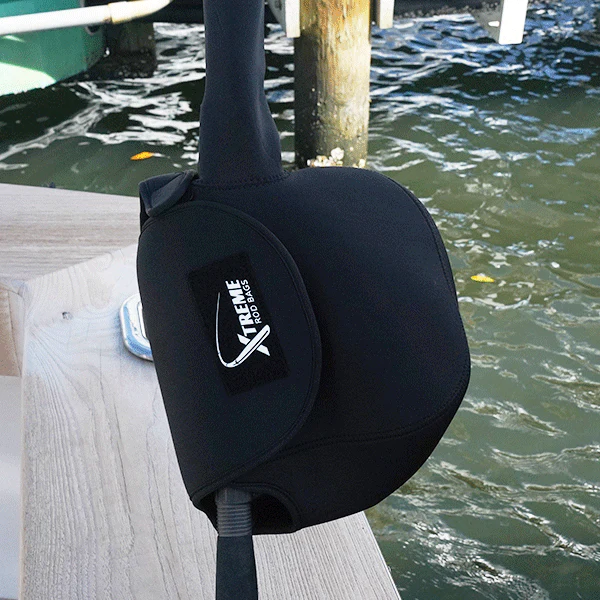 xTreme Rod Bags
come in. These all-in-one rod and reel protection bags are uniquely designed to cover all your tackle, ensuring your gear remains in pristine condition for your next fishing adventure.
High-Quality Material
xTreme Rod Bags are made from high-density neoprene, the same material used in wetsuits. This material is renowned for its durability and resistance to water, making it perfect for protecting your gear from impacts and water spray. Whether you're traveling in the cockpit, storing your gear in a locker, or transporting it to and from your boat, these bags offer unparalleled protection.
Custom Fit for All Your Gear
The Neoprene Series from xTreme Rod Bags is custom designed for various types of
rods and reels
. Whether you have conventional rods and reels from 15 to 80 lb, spinning rods and reels from 2000 to 12000 class, or oversized electric reels made by LP®, Kristal®, Diawa® & Hooker®, there's a bag designed to fit your gear perfectly. The adjustable length from 60" to 30" ensures that all rod sizes are catered for.
Canvas Series for Extra Protection
In addition to the Neoprene Series, xTreme Rod Bags also offers the Canvas Series. Made from
water-resistant marine-grade canvas
, these bags are mildew-resistant and water repelling, yet breathable to prevent condensation buildup. They are universal fitting and compatible with most conventional and spinning setups up to 7' long with a max reel size of the 50 lb class.
Testimonials from Satisfied Customers
Don't just take our word for it. Here's what some of our satisfied customers have to say:
- "Great design! The canvas series holds all my spinners and small trolling setups. Excellent protection while moving my tackle to and from the boat." - Todd R.- "I store my rods under a bench on the bridge and when I saw these bags I knew I had to get them. Perfect fit with superior protection." - Eric M.- "I started doing the math on how much I had invested in my rods & reels and I was sickened. I wrapped them all in the neoprene series. No more worries." - Greg C.- "I store my LPs under a bed on my boat. Always worried about them getting banged up. The xTreme electric bags were a perfect fit and do the job!" - David B.
In conclusion, xTreme Rod Bags are the ultimate solution for keeping your
rods and reels
protected. They offer superior protection, are made from high-quality materials, and are designed to fit a wide range of gear. Protect your investment today with xTreme Rod Bags.
As an angler, you understand the importance of keeping your fishing gear in top-notch condition. Your rods and reels are not just tools of the trade; they are investments that deserve the best care. That's where